Completed a New Project for a Construction Company
During some side time, I've been working on a asphalt sealcoating & striping company named Metro SealCoating & Striping in Marysville.
I started with some top level domain research since the company didn't own a domain. The domain search criteria began with:
Company Name
Service + Area
Area + Service
Area + service was the easy to saw and lend some opportunity to rank locally over company name or longer domain.
Next it was time to install WordPress and get some basic WordPress plugins installed.
All in One SEO
WP Forms
All in One Favicon
Now that basics are installed was time to select a theme.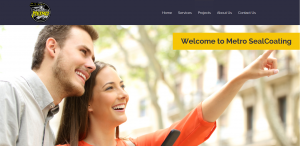 With so many option out there it took time to settle one that would fit a construction Business. Finding Build was a blessing. Build had construction website features pre-built in which sped up the time to delivery. Pre-built into the theme were a place for team members, testimonials, construction projects and services. The theme's recommended plugins were installed and it was time to start designing.
With a client having no written text, it was all from ground zero. I studied what sealcoating is, interviewed the client, downloaded all their pictures from their phones (told them to stop taking vertical pictures unless absolutely necessary), and got started. It was help to install the theme's demo version and reverse work it from there. It explained more how the site was built and made configuring the homepage and service pages far easier.
After that, it was uploading images for projects and getting some content filled out. I'm pretty happy with this design and layout. Hopefully the client is too.