Affordable 360° & VR Video Cameras
Video is the future of small business marketing. Old news right? Not exactly.
With YouTube, Facebook, and Twitter offering live video services, small business owners need to engage their audiences in dynamic and personal method. That is where video comes in. In our real estate business we produce home video tours containing drone footage and recreational videos of our local area.
These videos demonstrate local expertise while creating a platform for user to comment, share, and further engage with our brand.
In addition, new phones make it simple to produce Live Video so consumers engage in a Live setting with a brand.
Now things are changing, again.
In a follow-up to Creating In-House Marketing Material for Your Small Business and Affordable Multi-Purpose Video Equipment DIY-ers, we'll venture in the emerging world of 360° Video and VR while keeping in mind affordability and simplicity.
But first the fun stuff. 360° video and VR is taking the online world by force. I remember the day of the Lawnmower Man and wondering if that crazy VR contraption would actually be real life. Or, those hologram video games found in the arcades of the 90s. However, VR didn't become more mainstream till only recently.
In the real estate business, I've been shopping 360° video cameras for interior home tours. A quick Google or Amazon search yields an endless list that varies as much in price as in do features.
Familiar brands kept popping up: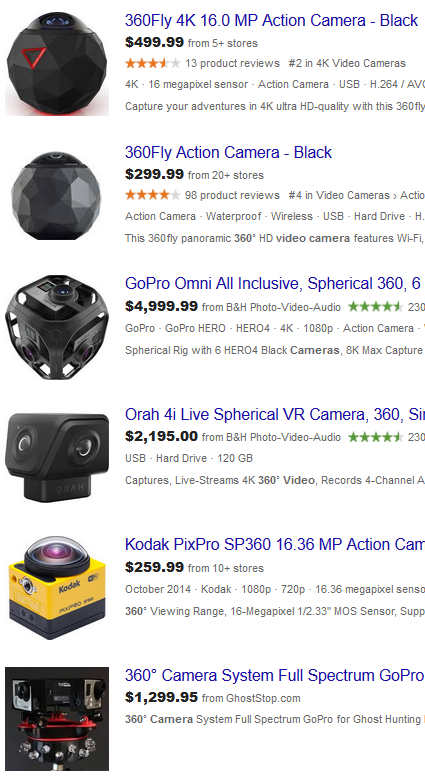 GoPro Sphericals
GoPro Omni
Ricoh – THETA S Digital Camera
360Fly 4K
Kodak PixPro SP360 16.36 MP Action Camera
Elmo QBiC Panorama X Panoramic VR
Orah 4i Live Spherical VR Camera
Samsung Gear 360 Degree Cam Spherical Camera Sm-c200
The list continues with even a few Chinese knockoffs in the results. For small business owners the choices can be overwhelming and technology can be intimidating.
For us, price was the biggest factor with software being the secondary consideration.
It was decided to buy a 360Fly 4K since it has the quality in the affordable price point. In addition, the 360Fly 4K came with its own software, Director App, for both desktop and mobile. Since owning this camera, we've made 3 work videos and 4 fun videos which have definitely perked interest in our fan/consumer base.
Here is one work example.
Whatever camera you decide on there is one thing to remember, use the camera. Using the cameras and publishing video is actually where most folks drop the ball. Time and time again, we see small business owners purchase technology only for it to collect dust. I've see it with fancy DSLRs, GoPros, and even drones. I cannot stress enough on using the camera and getting content published, whether that is to YouTube or Facebook.
What are your thoughts on 360° & VR video cameras? Not worth the money, no applicable in your business, to hard to use? We'd love to hear your thoughts in the comments below.