What is the Value of Quality SEO?
The small business sector should be paying close attention to how their website is performing on the WWW dot. Why? Reason: To find missed opportunities. Small business owners are faced with particular online challenges that their larger competitors may not and that is of having an in-house SEO (search engine optimization) expert or even a SEO budget all.
A website contributes little to no value for its owners if it doesn't bring in a steady stream of business. Have you ever heard business owners saying "I have a website but do not know how much traffic it generates" or "in this industry clients do not come from the internet"? I have. One has gone as far as said "I have a website but don't know what the website address is". Believe me, that one drew a facial expression of absolute horror.

It's not to surprising though since many small business owners have relied upon their skilled craftsmanship, excellent service and/or referrals for their clientele and haven't had to contemplate a new way of attracting consumers. But when it comes to growth and expanding business other means of advertising must be explored.
That is why it is imperative for business owners to keep a close eye on their online marketing efforts. The value of SEO is very high in my opinion, not only because I do it for work but it actually delivers measurable results no matter the industry. Just recently I noticed this website staying on page 1 of Google for small business marketing but results can vary between data centers (it's definitely not #1).
Items to look at when determining the value and quality of SEO efforts are: crawl errors, unique title tag usage, SERPs, and lead conversion.
Crawl Errors: Using Google Webmaster Tools, a webmaster can easily find which pages on their website are not producing results for web queries. These show up as 404 errors and are easily fixed using a 301 redirection. Here you can see that this website has had 10 crawl errors from when the website's url structure was updated. The least amount of errors a website has the easier it is to be crawled and indexed. This doesn't even count all the link equity a website can recapture – notice the 3rd page is linked too from 9 other pages.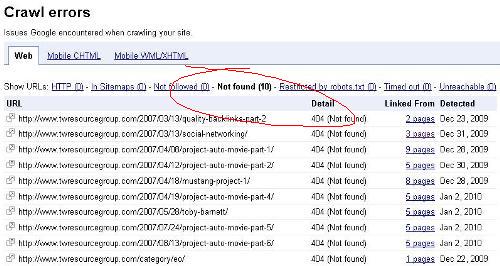 Unique Title Tags: Every page on a website should have its own unique title tag describing the content which can be found on that particular page. I have seen examples where every page has the same title tag which usually read something like this: Company Name & Phone Number. There is no differentiation between the home, about, contact, services, and/or the terms of service pages. This will allow search engines to quickly and easily organize the content found on the website.
Search Engine Ranking Analysis: After doing the previous action items, take a 3 month period to review the website's starting position on a search engine, I recommend Google, for a particular search query and track it. If your website had little to no SEO, more than likely it probably would be found low in the search results, dig through the many pages. Setup an Excel spreadsheet with the following collums: Date of Test, Keywords Tested, SERPs Ranking, and % Change. Then watch it and more than likely the results will show a positive increase.
Lead Conversion: This is the most difficult part of the equation to achieve, especially for websites that sell a service and not a product. Some success factors to increase a site's conversion ratio are: high quality content, collecting contact information, maintaining a follow-up system, and continued website updates. While new customers are visiting your site those items will help build confidence and trust. Confidence and trust are, in my opinion, why people do business with one online company over another.
So if you can master all these items your small business will start generating a new stream of clientele in a cost effective and residual manner. Just beware of the people selling junk SEO packages, my favorite junk SEO tactic is this: "I will submit your site to all major search engines".
Tip: if website A receives a link from website B and website B is already indexed, the link on website B will be crawled and website A will be indexed by that search engine. Typically this a quicker method than using the search engine's submission page.
So if you are looking to hire an SEO, I recommend doing a lot of research on the companies that provide SEO services. Another tip: Google people who contact you soliciting services and see how well their SEO is first. If their site is junk and/or has no PR then it maybe a sign that that company is not worth using.
Originally Published November 30, 2007 and has been updated.