Is Google Authorship Really Dead? Not for the Music Industry

Recently, Google announced they're terminating Google Authorship. One reason for the termination is due to authorship abuse. The abuse stemmed from website owners having authorship markup on every single page, even when the page containing authorship necessarily shouldn't/ have it.
Why? Because Google+ pictures would show in the search results. Website owners, even myself, noticed click through rate increasing using the Authorship markup. However, Google's own spam assault made them rethink the usefulness of authorship in search results and back in June Google stopped displaying author images.
We know that Author Rank isn't dead  but is Google Authorship really dead? I don't think so.
The other night, while editing a Smatree S1 review, I needed some royalty free music. Instead of buying a really expensive song from iStock.com, I searched 'royalty free music' and an intriguing result appeared.

Clicking the arrow next to Kevin MacLeod's name rendered: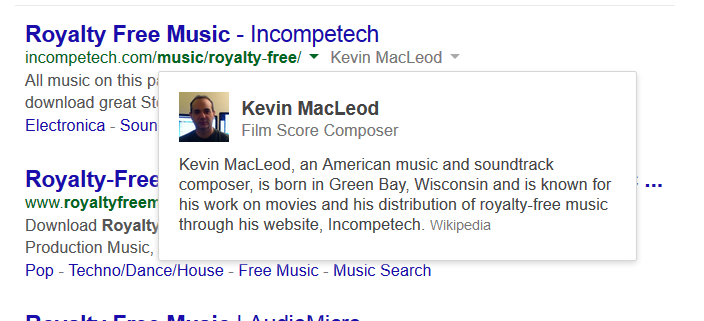 Ok Toby. So what? Even though Google has publicly announced Google Authorship is not a ranking factor these days something in Google is displaying names and brand names in search results.
Is this part of Author rank?
Is Google still testing applicable uses of Authorship?
As Author Rank increases will more names be visible in the search results?
Search Engine Land published Google Authorship May Be Dead, But Author Rank Is Not and Danny Sulivan writes:
Google ended Google Authorship yesterday. The image support was dropped in June; now the bylines and everything else related to the program are gone. It's dead.
I respect Danny a lot and I've seen him speak at Pubcon over the years. Yet, I am curious why Google is showing names in search results when its been wildly known that authorship is on the way-out. I've tried many different search queries but right now all that renders names are music searches.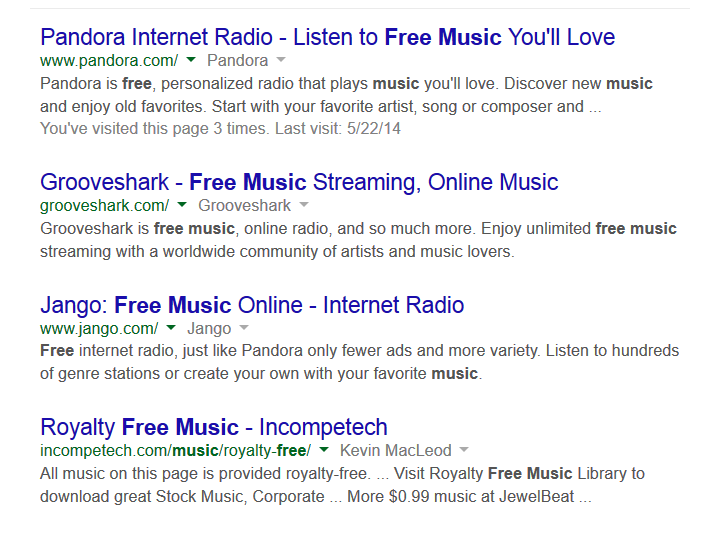 Music companies and brands are definitely winning with the SERP changes; Pandora, Grooveshark, Jango, and Kevin MacLeod are getting some bonuses.
Why?