Facebook's Call-to-Action Button for Pages
Today, upon logging into a Facebook page, the Facebook page had popup shouting at me titled Create a Call-to-Action. The part of me that loves shiny new objects, lit up and smiled. Calls-to-Action are used on websites and social media to get followers to act. Whether that be used to get users to call, watch more videos, sign up for a newsletter, and/or shop for products. It is important to select the most appropriate Call-to-Action for your business. Do your customers call, send emails, watch videos, and or watch to shop now?
Need a reason to fill out Facebook's Call-to-Action field? Read MarketingLand's article Facebook Drives Nearly One-Fourth Of All Referral Traffic.
In the page mentioned earlier, a real estate page, the Shop Now was the most appropriate Call-to-Action to choose. Looking for a home, and/or property, is what users expect to do on real estate websites. Also, website users are a way real estate agents gain new or build upon existing business.
When deciding which Call-to-Action to select ask yourself "how do existing customers interact with our business?". Also, don't be afraid to test and try the different action buttons.
But enough about what Calls-to-Action are and which ones are the most appropriate, here is how to set it up.
1. Login To Your Facebook Page.
2. Click the Call-to-Action button.
In the screenshot below, the Call-to-Action has already been set up, and from fear of deleting the button nothing was changed.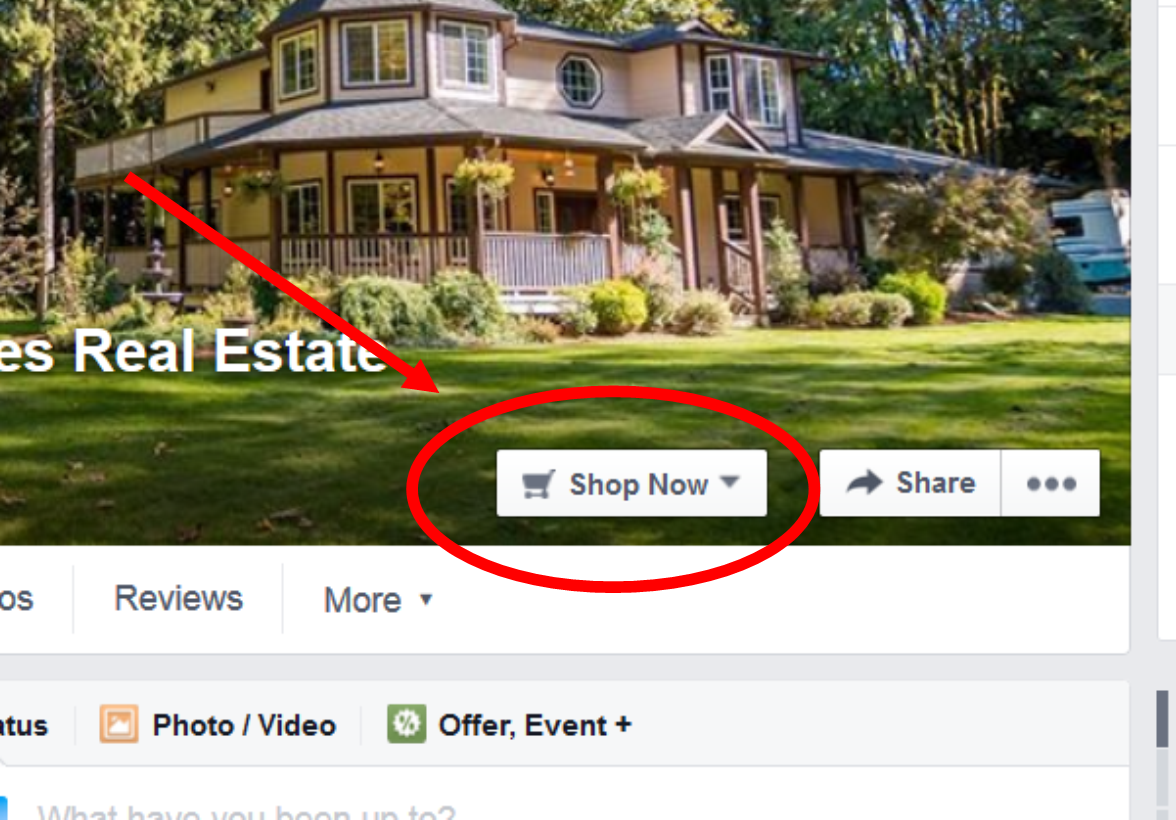 3. Choose a Button, insert desired Website, and insert a Mobile Website (if applicable).
The website we're directing traffic to is mobile responsive so there is no need for a Mobile Website address.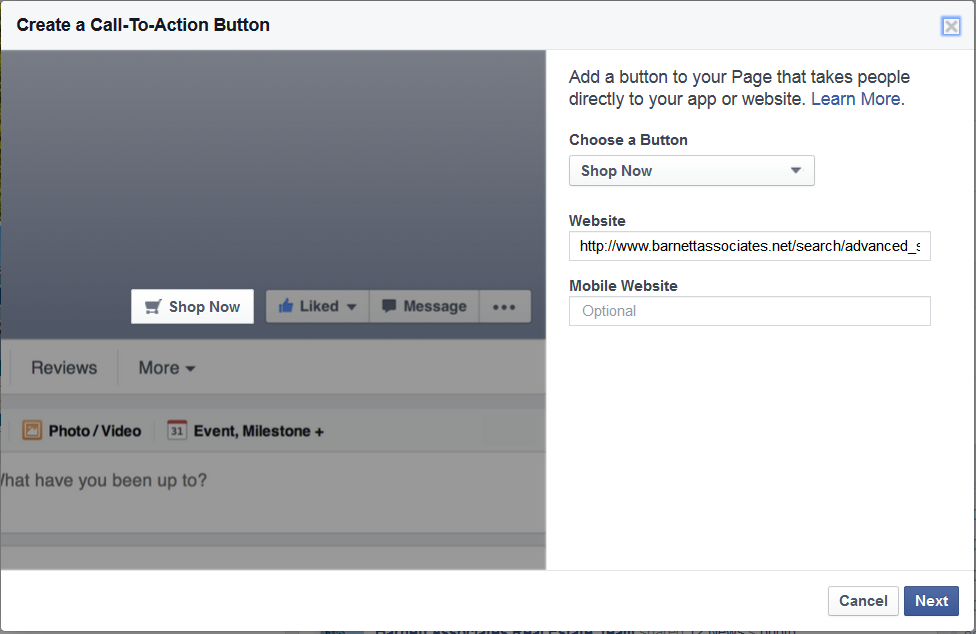 4. Choose a Destination for People Using iOS.
If your brand has a iTunes app then they can be directed appropriately.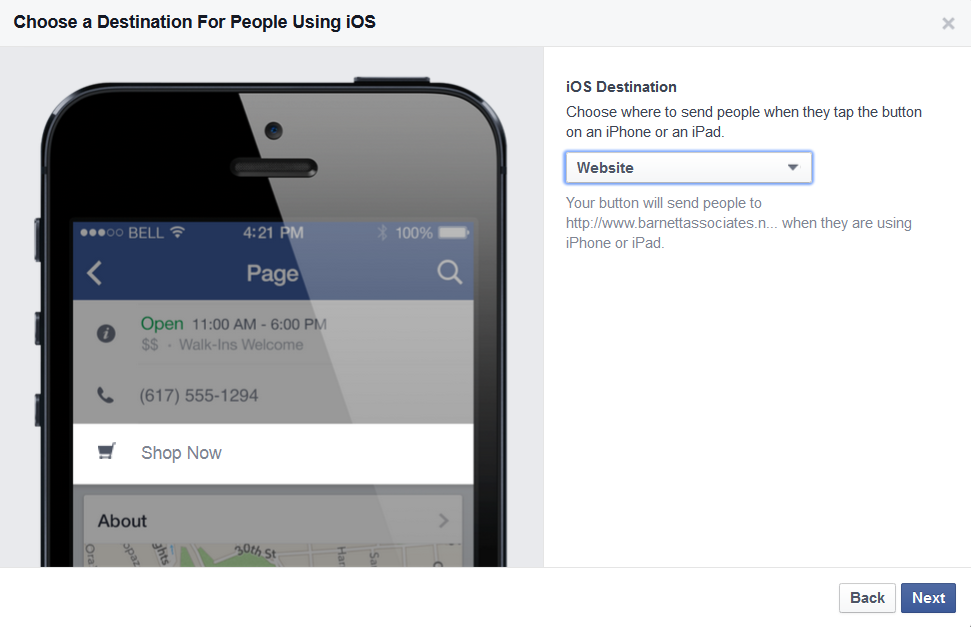 5. Choose a Destination for People using Andriod.
If your brand has a Google Play Store app then they can be directed appropriately.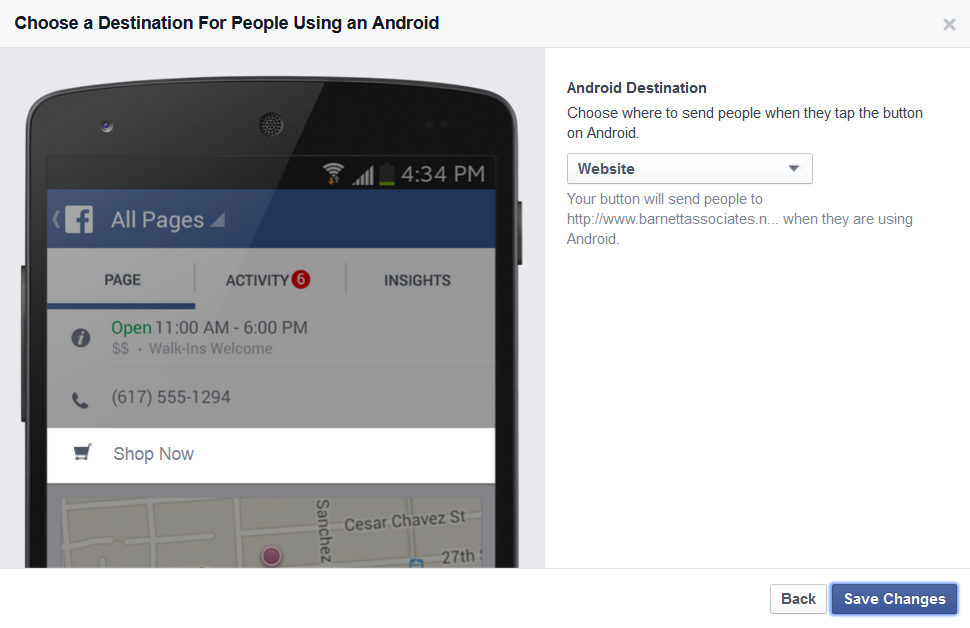 That's it.
Setting a Facebook Call-to-Action in another tool, a free tool at that, small business owners and non-profits can employ to create business opportunities and awareness.
Need some more reading? Facebook released a article New for Facebook Pages: Calls to Action on December 11, 2014 and stated "The call-to-action feature will roll out in the US over the next few weeks and worldwide next year".
Your Facebook Call-to-Action not displaying? It may have not rolled out for your page yet. The Facebook page referenced in this post was alerted today and its a Washington State based business.
Related Posts
Social Media Campaigns

Advertising on Twitter Jenneva Vargas @jenneva26 – Target Twitter Ads: Interests, Followers, Keywords, Television, Event Targeting, Tailored Audiences, Behaviors – Tailoring Twitter Ads:

Social Bookmarks

Today I have been busy working on inserting social bookmarks on our blog and after tons of trial and error I found one
About The Author
Toby graduated from the University of Washington and likes to blog about marketing ideas, stuff he is doing, and sometimes writes gibberish on his personal blog. You can follow him on Twitter, Facebook, and Google +.