Are You Uploading Video Natively to LinkedIn?
Are You Uploading Video Natively to LinkedIn? If not, here are 3 reason why you should be.
Uploading native content has been a topic of marketing blogs over the past couple years yet most posts discuss Facebook (and now Facebook Watch) and leave out LinkedIn. At Pubcon, when speakers discuss LinkedIn most audience members mutually agree that LinkedIn is a place to connect with people you don't know at all. I'll admit. I fall into that category, sometimes. However, when it comes to video that thought quickly fades.
Here is an example of a recently uploaded video embedded from a LinkedIn business page.

1. Native Video is Great Content
Video content is visually appealing, can tell a story, teach and encourage, reinforce a brand and create awareness, and can be watched faster than reading. In the above example as well, people and profiles can be tagged to target the speakers, brands, and in this case the official property listing broker.
2. Native Video is Easy to Engage With
Like other social platforms, LinkedIn allows member users to easily watch with or without sound and see your content. Video is far more eye catching and naturally encourages the Like, Share, and Comment features. Also noted, LinkedIn even allows users to Embed video content onto third party websites.
3. LinkedIn Insights Lend a Different Perspective on Viewing Audience
LinkedIn stats are not as robust as Google Analytics and even Facebook Insights; however, depending on if a video is uploaded via a brand or personal profile the stats give a unique look into who the viewers are.
Stats from Business Profile
Business profile stats display the impressions and reach though it could be more robust. Click the image to enlarge.

Stats from Personal Profile
Personal profile stats do display the job positions of viewers, a very unique insight. Click the image to enlarge.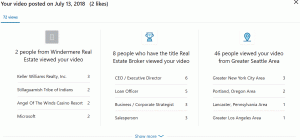 So, if you're not taking the time to natively upload video to LinkedIn now is a good time to start. Especially if you, or your marketing team, is already uploading to Facebook Watch, and YouTube then its just one more step to gain additional exposure.
About The Author
Toby graduated from the University of Washington and likes to blog about marketing ideas, stuff he is doing, and sometimes writes gibberish on his personal blog. You can follow him on Twitter, Facebook, and Google +.