A Washington Startup is Looking to Make a Big Impact
Washington State is no stranger to entrepreneurs, venture capital and angel investments, high tech firms, innovation, and changing industries through smart thinking. This has been readily seen in the marijuana industry. Changing laws, specially I-52, allow for the legal use and sell of recreational marijuana in Washington State and with comes a whole new bread of entrepreneurs.
WashingtonWeedSales.com is just one of the many startups growing roots in a blooming industry. Operated by 2nd Smoker, WashingtonWeedSales.com is a directory orientated website which categorizes marijuana co-ops, dispensaries, and stores by locales. Individual cities have "featured' spaces at top where business owners can pay for placement. Unlike tranditional business directories, WashingtonWeedSales.com is stricly for business operating in the marijuana industry; medical and recreational marijuana stores, head shops, edibles, and anything else that may emerge.
The website encourages sign up and register. Once through the sign up process and selecting which plan a business owner wants, the business owner can upload multiple business pictures, add their contact information, social profiles, business bio, and even receive patron reviews. Here is the Healing Leaf's profile as an example: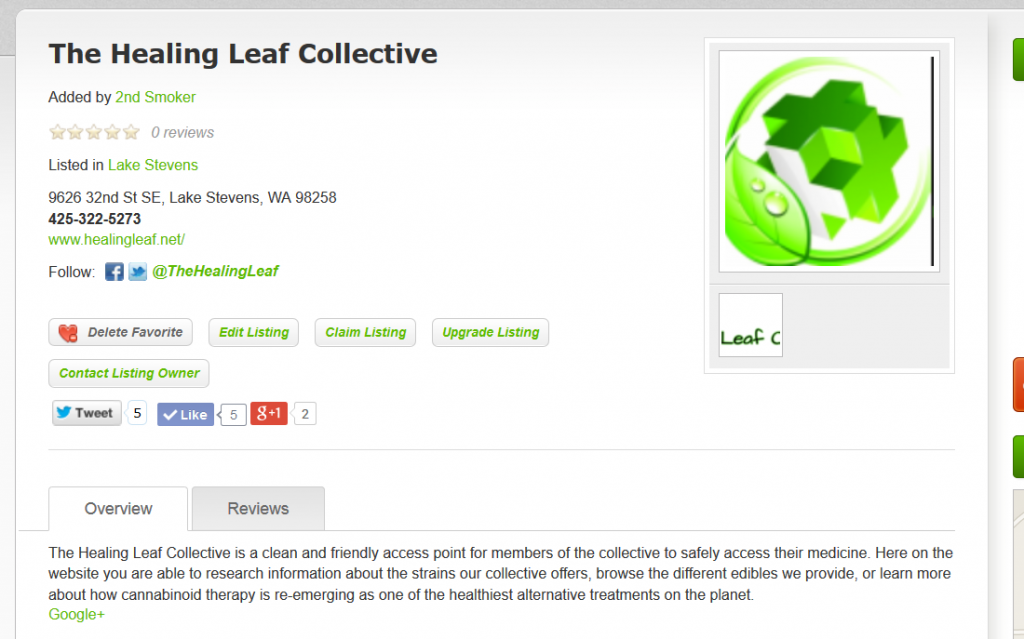 The business model for WashingtonWeedSales.com is purely online and at this time they don't have a mobile site. Like many directory style websites, the goal is achieve top keyword placement to demonstrate the need for businesses to advertise and website appears to be doing a darn good job at that.
Here is a Google Search for Everett, WA.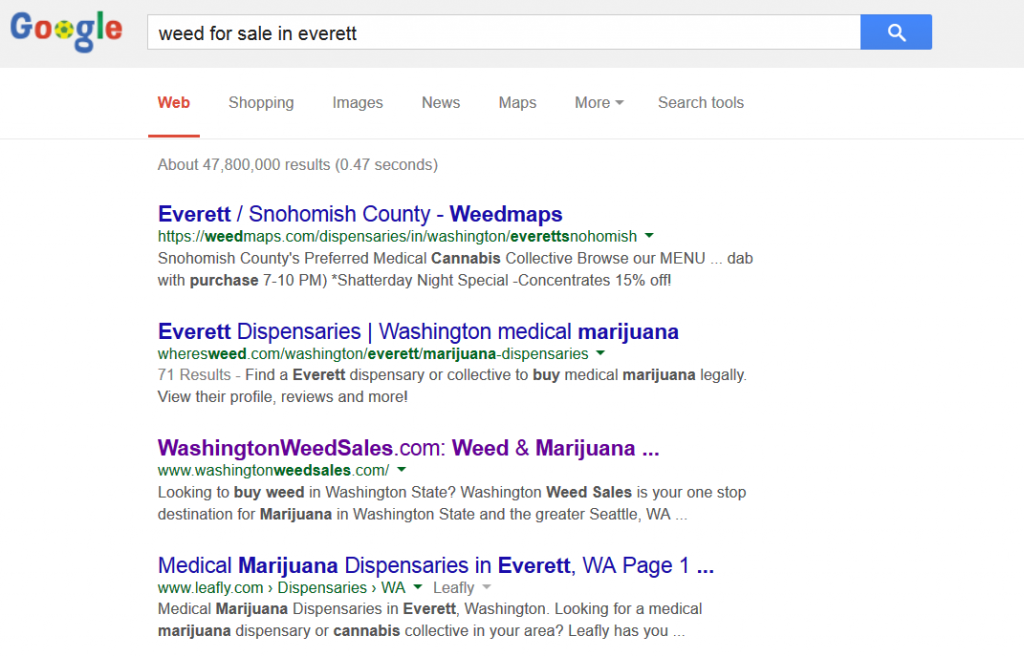 In addition to directory listings, the WashingtonWeedSales.com features Forums, which are not heavily used but appear to be gaining activity, and a blog. The website has a lot of potential.
Entering new markets or jumping in on emerging markets makes entrepreneurs who they are; innovative, aggressive, and limit pushers. 2nd Smoker is doing just that. Others, marijuana domain buyers, are having a harder time getting a foothold since they don't necessarily have a product too market. WashingtonWeedSales.com has a strong foundation leading into the recreational marijuana sales poised for this July.