6 Steps to Building Your Own Backlinks
Since starting in small business in SEO backlinks have always been an integral part of offsite marketing and now with Google's Panda, Penguin, and Hummingbird algorithm updates that is is the case, though the link landscaped has changed. Gone are the link schemes, link wheels, link exchanges, and link directories yet there are still cost effective and honest methods for quality link building.
While building links is hard, always has been, there is a technique that can make life easier for do-it-yourself-ers.
6 Steps to Building Your Own Backlinks
Purchase Domains: GoDaddy.com, or other domain sellers, provide reasonable pricing for domains, approximately $10 a year. Keeping it simple, search for available '.com' domains that are related to your business, select domains that are short and not keyword stuffed ex. realestaterealestaterealestate.com, and don't be over zealous with purchasing domains since they're cheap because there is a lot more work to be done.
Purchase Cheap Hosting: If you don't already have a web hosting company then you'll need to find one. We recommend BlueHost for their rates and their service – its top notch. With affordable hosting you can build website and after website without incurring additional costs.
Build Websites on Each Domain: Here is where the work begins. Use what ever software you're familiar with to build the websites because this process is time consuming, can be over whelming, and they will be replicated. WordPress is fast system to use since BlueHost has a WordPress installer that is designed for us non-techy types. Also, don't forget to make these microsites functional since they are intended to serve a purpose
Create Links: On each website create 4 links per website, don't recommend more than that, which point to specific landing pages on the website in which visitors can purchase product, search for product, or fill out a lead capture form. Also, these links should be in a prominent place visitors will actually click.
Install Social Sharing Buttons: Make sure the website has social sharing buttons on it. Facebook, Twitter, Pinterest, Google+, and LinkedIn are good places to start. This step is imperative to Step 6.
Indexing the New Website: There is no point in building website, or links for that matter, if the site takes to long to get into Google's website index. The fastest form to index a site, we know of, is share the website to Twitter – assuming the business owner has a Twitter account. Click the Twitter sharing icon and share the link, along with a good title, and within a few hours the website should be searchable via Google.
Why Step 6 important?
By getting the websites indexed, by Google and other search engines, a search engine will subsequently crawl the website and any links on that site. The 4 built links will then be indexed to the desired destination, resulting in increasing ranking for those desired landing pages.
Here is a Working Example
Recently, we built seven websites for the Barnett Associates Real Estate Team. The domains are variations of [city name]agents.com, they are two pages in depth (a homepage and privacy policy), include two images of their team, a contact form, and social connection buttons and social sharing buttons.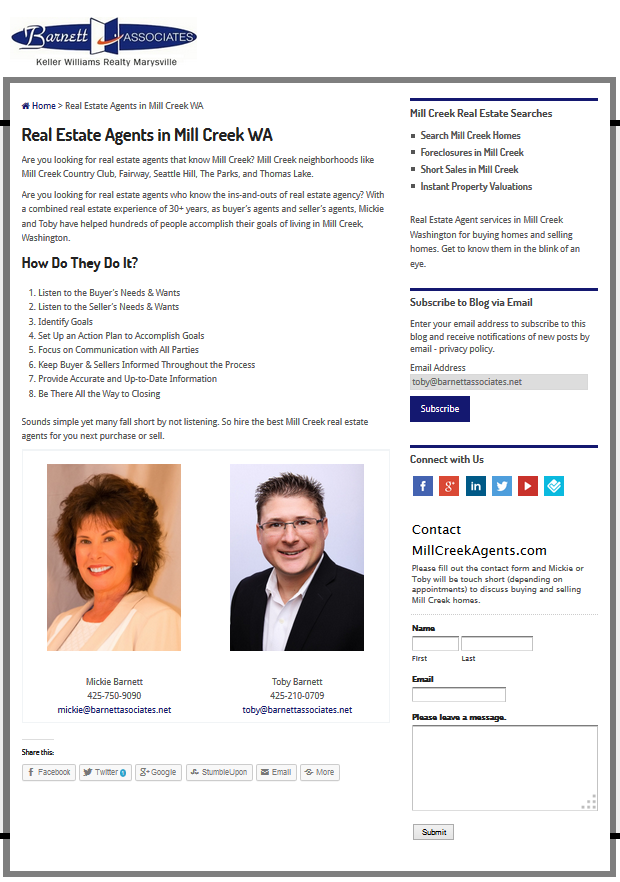 All-in-all, it took approximately a week to implement the link building strategy and in the process their primary website gained 28 new backlinks pointing to strategic landing pages. Yes, this may seem like a time consuming link building endeavor when there are cheaper solutions available. However, SEO is a long-term strategy and not a overnight one-time strategy.
Have you done this type of link building before and do you still do it? Let us know in the comments.